The easiest way to obtain tailor-made legal documents
Create legal documents in just a few clicks. Lawbox is a quick and intuitive way of obtaining legal documents you can trust.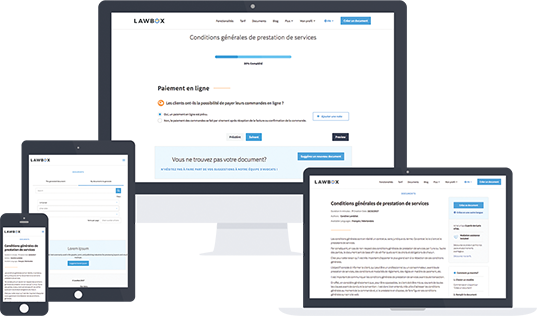 They trust us
Great service! In just a few minutes I made my own terms and conditions. I even made an appointment with a lawyer regarding a specific question I had.
Huwelijk.be
I don't have to wait for weeks to get legal documents anymore! In barely 10 minutes I drafted everything myself. Great ease of use!
Nathalie Duelz
 Congratulations with your great tool! It's easy to use, intuitive and the design is great!
Identikid.be
Being self-employed, I love Lawbox! It allows me to draw up my own legal documents, without needing to go through a lawyer all the time.
Bruno Lambotte
After the creation of my company, I needed several legal documents: a management agreement, a privacy policy, etc. I was able to draft them myself thanks to Lawbox!
Make Sense
Lawbox is a great tool for tech entrepreneurs and SME's in general. They have everything you need at an affordable price.
Maha Karim-Hosselet
Larger corporation or law firm ? 
Lawbox developed a software tailored to your needs! Our contract automation and management software is an end-to-end tool, allowing you to automate your own documents and to take charge of the whole contract lifecycle.
Read more